Are you thinking about relocating from California to Arizona? The Grand Canyon State gives you a variety of reasons that include a lower overall cost of living and a great job market with plenty of opportunities in health care and financial services among other industries. Maybe you want to retire here.  Whatever your reason, Fountain Hills is an often-overlooked gem in the Phoenix Valley that should be at the top of your relocation list.
Variety of Home Styles
Zillow indicates that the current median home value in Fountain Hills stands at $440,416, which reflects the wide range of available housing options here. Buyers will find a wide range of options here, from condominium starting in the low $100,000s and carefree townhomes, all the way up to luxury estates valued at more than $3 million. You'll also find homes at plenty of price points in between, with choices in gated and non-gated communities.  Some of our favorite communities in Fountains Hills are, Eagles Nest, Eagle Mountain, FireRock and Sunridge Canyon just to name a few.
Suburban, Yet Urban
Its location on the northeast side of the Valley is what often makes some buyers overlook this quiet town of just over 25,000, residents yet unlike other communities on the outskirts, Fountain Hills boasts a full complement of grocery and drugs stores and other convenient local shopping while also providing easy access to the rest of the urban area via the Beeline Highway and Shea Boulevard.
Arts and Culture Mecca
You don't have to head into Phoenix for arts and cultural offerings. Fountain Hills has a thriving arts and festival community that has numerous events each year including; October Fest, The Great Fair and more. In addition to its famous fountain which is the world's tallest fountain, the town also has an active playhouse along with the River of Time Museum that helps keep residents engaged.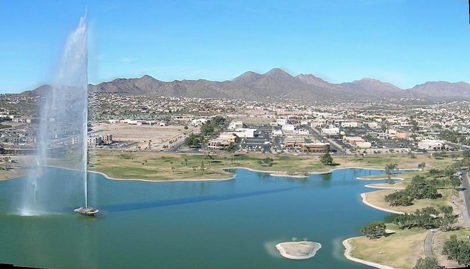 Low Crime Rate
When compared with the rest of the Valley, fountain Hills has a relatively low crime rate (12 per 1000 residents), which make it a great place for families and senior citizens alike. Most neighborhoods here are also dog friendly, adding to the feeling of safety.
Gorgeous Surroundings
When you live here, you'll experience gorgeous views in every direction. Check out all of the fantastic Fountain Hills Homes for sale as well as the views of Four Peaks, the Mazatzal Mountains and the McDowell Mountains, all of which provide plentiful outdoor recreation opportunities.